530-412-5436
So glad you found my website...
I love providing Romantic Wedding and Vow Renewal Ceremonies and being a part of new beginnings.
I hope that the Very Special Ceremonies that I offer, are exactly what you are looking for.

Ann Poole, Lake Tahoe Wedding Minister


Custom Romantic Wedding Ceremonies
~ Meaningful, Memorable, and Created Just for You ~

Because you have arrived at my Wedding Website, I believe that you really care about the words that you will say on your wedding day.
This is your day... you want meaningful words that will not only give you joy as you stand there sharing the moment,
but warm the hearts of your friends as they witness the magic of your love.
You have chosen an awesome location... now you can match it with a Very Special Ceremony.

Why an Ann Poole Wedding?
In 1970, I married to MY Prince Charming. He is my best friend; the one who listens to me, supports and encourages whatever I do.
Our love continually inspires me to write and perform ceremonies for the many couples that I have the privilege of marrying.
(Does that sound just way too corny?) But it's true! I am comfortable performing ceremonies to large gatherings
that are religious or non-religious and have stood in for Priests and Rabbi's when they could not attend.

My career was in Publications and as I retired, I knew that my talent was going to be a gift to each couple that I marry.
I develop an initial draft with several choices for you to choose from. I will be there to help you with ideas and suggestions.
You can simply make choices, change any words, write your own vows, tell your love story and include ethnic traditions.

This is your wedding... anything is possible.
Let's talk. I would love to hear about your wedding plans and ideas that you have for your ceremony.

Custom Romantic Wedding Ceremonies: $495
Rehearsal, add: $100

Wedding Licenses

REQUEST FORM FOR CONFIDENTIAL MARRIAGE LICENSE FORM is at the base of this website.
I am Authorized by the County Recorder's Office to issue your license; no notary fees, no waiting in line and no blood tests.
Then I file it for you... it's just that easy.

Wedding License: $60

Need to expedite getting your Wedding License?
Rushed by Priority Mail to the Placer County Clerk Recorders Office and then sent by FedEx to you: $60

~ ~ ~ ~ ~ ~ ~ ~ ~ ~ ~ ~ ~ ~ ~ ~

My Wedding Gifts to you...

M-m-m! A Decadent Rich Chocolate or Traditional White Lace Wedding Cake for Two (a yummy Honeymoon Night Treat)

A Gift Bag filled with Glass Champagne Flutes for your choice of Champagne or Sparkling Apple Cider for Two.
Flutes are decorated with Bead and Crystal Charms

~ ~ ~ ~ ~ ~ ~ ~ ~ ~ ~ ~ ~ ~ ~ ~
Bilingual Wedding Ceremonies
Provided in English as well as almost any language.
I have also provided ceremonies for couples with sight and hearing loss and worked with ASL interpreters.

~ ~ ~ ~ ~ ~ ~ ~ ~ ~ ~ ~ ~ ~ ~ ~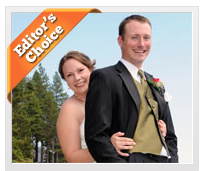 Wa-hooo! I am SO excited and honored!
Ann Poole Weddings is now featured as the
' EDITOR'S CHOICE for Lake Tahoe Wedding Minister '




(530) 412-5436 (Direct Line/Cell Phone)
When leaving a message, please include area code

Thank You's | Contact